STAY TUNED, JOIN OUR MAILING!


Click Here to see our older news


LYZANXIA - MINDCRIMES - Japanese Edtn (2002)
Produced by Fredrik Nordström
King Records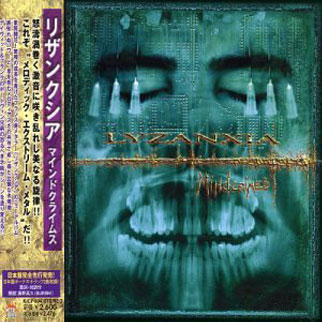 1. Time dealer
2. Medulla Need
3. Damnesia
4. Mindsplit
5. Dusk
6. Gametime
7. My Blank Confession
8. Black Side
9. Silence Code
10. D.M.
11. Fugitive
12. Glass bones
13. COG
14. Endless Sphere
Line UP :
Guitar/vocals - David Potvin
Guitar/vocals - Franck Potvin
Bass - Eguil Voisin
Drums - Dirk Verbeuren
JAPANESE EDITION Including 2 Bonus "COG" & "Endless Sphere".
Two years after recording « Eden » and the end of its promo campaign, about twenty new tracks were ready. 15 songs were selected for the recording of this 2nd album. « Mindcrimes » was recorded in the same way as « Eden », at the Backstage studio in Lyon in March 2002. Same for mixing and mastering, which took place once again in Göteborg, Sweden, with Fredrik Nordström and Goran Finberg. This time artist Alain Tréhard was totally free to find the concept of the artwork and to design it from beginning to end ; he started in April 2002 and finished in July 2002. The result is nothing less than mind-blowing. The artwork for « Mindcrimes » shall remain among the very finest ever.